Working together
WISHNI members include representatives from professional associations, recycling organisations, and national and local government bodies involved in waste management and recycling.
The Health and Safety Executive for Northern Ireland (HSENI) is also a member, adopting an advisory role to help improve health and safety practices throughout the industry.
The aim of WISHNI is to identify, devise and promote activities to improve industry health and safety standards.
Local companies awarded as WISHNI Ambassadors for 2018

WISHNI, the Waste Industry Safety and Health Forum for Northern Ireland, has announced 15 new awards for employers chosen to be Health and Safety Amabassadors for 2018.
The Ambassadors Awards Programme provides recognition of the safety management activity of WISHNI partner businesses within their own organisations. A health and safety Ambassador is described as one which is a willing participant in the promotion of health and safety best practice not just within their own organisation but within the wider waste and recycling sector.
The fifth annual awards ceremony, held at the newly refurbished Dunadry Hotel, Co Antrim, marked ongoing efforts to improve health and safety across the waste and recycling sector. The Chief Executive of the Health and Safety Executive for Northern Ireland, Mr Keith Morrison, in presenting the certificates acknowledged the important contribution made by each employer in helping to improve health and safety standards across the industry.
Newly appointed 2018 Ambassadors
Newly appointed Ambassadors included:
ConveyorTek Ltd
Derry City and Strabane District Council
FryLite Ltd
McQuillan Skip Hire
McQuillan Envirocare
NWP Ltd
RecyCo Ltd
Returning Ambassadors Alpha Resource Management, Belfast City Council, Bryson Recycling, Granville Ecopark Ltd, McKinstry Skip Hire Ltd, Natural World Products Ltd, Recon Waste Management and RiverRidge Recycling also received recognition at this year's award ceremony.
Mr Jim King, Chair of WISHNI commenting on the Ambassador Programme said "There has been a very encouraging level of interest in this year's Awards and I'm delighted new employers continue to become involved in promoting best practice."
Successful applicants were able to provide evidence of active participation within the wider industry on matters relating to health and safety.
Mr King and Mr Morrison presented awards to all Ambassadors.
Alpha Resource Management Ltd
Alpha Resource Management Ltd received this award for their appointment of an independent specialist organisation to provide confidential annual health surveillance of all employees as well as having a safety committee so that health and safety issues can be regularly discussed between all levels of employees.
One such issue raised was the recognition that some employees may experience issues causing them distress. As a result a free counselling service has been provided to employees free of charge, 24 hours per day, seven days a week.
Belfast City Council
Belfast City Council are a returning Ambassador and an organisation that has realised the importance of employee involvement in relation to updating risk assessments and producing new ones. Staff have attended risk assessment training and have created a risk assessment working group. This group also developed the idea of a Staff Welfare risk assessment, a first of its kind for the council.
In addition to mandatory health and safety training, the council offers a range of mental health courses such as Mindfulness, Stress Awareness and Personal Health and Well-being which are available to all employees.
Bryson Recycling Ltd
Bryson Recycling, another returing Ambassador, are an organisation that has continued to review working conditions and processes within their Materials Recovery Facility. This involved consulting employees at all levels resulting in areas for improvement being identified which included health and safety communication, employment of additional health and safety personnel, improving traffic management plans and dust extraction.
ConveyorTek Ltd
ConveyorTek are a small company with 41 employees which was able to demonstrate comprehensive safety policies and practices. An excellent suite of risk assessments and method statements means that both employees of ConveryorTek and employees on sites using ConveyorTek equipment, benefit from the amount of know-how that has been put into developing conveyor systems and belting.
ConveyorTek have demonstrated that they understand the high risk nature of the waste industry. They were able to show how production and service employees are trained to carry out risk assessments and are actively encouraged to do so daily. All service personnel carry out personal risk assessments before any job can commence and have full authority to postpone any task they deem unsafe. They endeavor to assist customers to plan and execute any job as safely and effectively as possible.
Derry City and Strabane District Council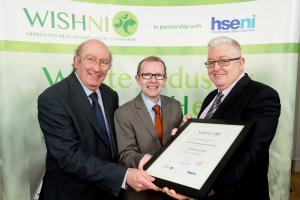 The second of only two local authority Ambassadors is Derry City and Strabane District Council. As part of their application they were able to demonstrate a very comprehensive team approach to many health and safety issues but notably they have implemented a 'Be Well' programme, where staff have been able to avail of a health MOT and participated in a health week which looked at areas such as mental health and drink and drug awareness. Employees also have access to hearing and eye checks, a counselling service as well as general well-being advice.
FryLite Ltd
A new ambassador for 2018, FryLite have been awarded the title of Ambassador due to their extensive training programme for drivers which include toolbox talks, near miss reporting and refresher training. Training includes the use of photographs to identify exactly what is required of drivers and standards expected.
Granville EcoPark Ltd
Granville EcoPark believe there is always room for improvement and with the help of their staff they can resolve any problems. They have welcomed the involvement of staff from all levels in health and safety meetings to discuss any issues or raise any concerns they may have, no matter how minor.
From experience they found that there was much better interaction when senior management was not present at the meetings. Now a health and safety representative chairs the meeting on a monthly basis and refers the minutes to the plant manager who addresses issues raised and actioned depending on their priority.
McKinstry Skip Hire Ltd
McKinstry Skip Hire are committed to providing and promoting opportunities for employer-employee consultation on health and safety matters. They are an organisation that have identified that it is a legal requirement but also because, in terms of business performance, it increases productivity, improves overall efficiency and quality and promotes higher levels of workplace motivation. It also promotes a healthy and safer workplace where employees help to identify hazards, assess risks and develop ways to control or remove risks.
McQuillan Envirocare Ltd
McQuillan Envirocare are another company which has demonstrated a comprehensive suite of safety policies and practices. The company have introduced a system of near miss reporting which has encouraged employees to take ownership of health and safety matters in the workplace. Hazards reported provide information for company-wide analysis, allowing trends to be identified and action focussed on specific areas supported by dedicated training. The system allows employees to see how monitoring is carried out and in the long term is aimed at reducing accidents and associated personal and business costs.
McQuillan Skip Hire Ltd
McQuillan Skip Hire Ltd brings waste collection services to customer sites using hook loader, REL, skip and bin lorries. These vehicles have a well-known range of potentially fatal hazards associated with their use.
Therefore both customers and employees have received additional safeguards through utilising the valuable experience of thier drivers. The development and adoption of a new suite of risk assessments and safe systems of work has been rolled out through a suite of specific pictorial and photographic instructions for the vehicles. This method makes sure that safety controls are practical and identify risks that may not be readily picked up by those who are unfamiliar with the processes.
Natural World Products Ltd
Following a recent spate of highly visible major fires within the recycling industry and due to the water supply being of limited benefit to the Fire and Rescue Service, Natural World Products have installed a 300,000 litre static water tank that provides a water supply to five newly installed hose reels fixed externally around the site to assist the Fire and Rescue Service. This ensures the safety of employees by extinguishing fires rapidly and ensuring egress from site is possible and damage to property is minimised.
NWP Recycling Ltd
NWP Recycling have identified the requirement to ensure that all employees can avail of a training programme that they can understand. All significant site health and safety training, rules and procedures are translated to non-English speaking site personnel with mandatory health and safety signage translated into the most common languages for site users including English, Lithuanian, Latvian and Polish.
They have also become involved in a health and well-being initiative covering matters such as healthy eating, physical activity, stress, alcohol and smoking. As a result they have identified a reduced sickness/absenteeism rate and lower staff turnover.
Recon Waste Management Ltd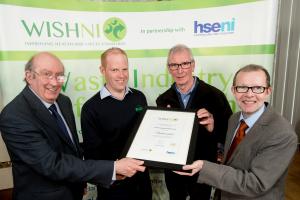 As a returning ambassador, Recon Waste Management have identified the need for change as their business has grown over the last few years.
Recon wanted to ensure that health and safety was the first thing that employees thought about each day before starting their work. They invested in a software programme by CoreChex that enabled employees to record daily checks of equipment on the their mobile telephone and have the results transmitted to the appropriate manager immediately, who is then able to take appropriate action. The app is also used for near miss reporting and fire and emergency evacuation reporting to name but a few.
RecyCo Ltd
The processing of mixed dry recyclables and construction and demolition wastes in a confined building can create an unpleasant working environment for employees, housekeeping issues and significant fire risks as airborne dusts come to rest on plant and equipment.
Management at RecyCo undertook extensive research to ensure that the most appropriate system was purchased, one that would not wet the floor, stock or employees. They invested heavily in a mist air system that has the capability of reducing airborne dust by over 97 percent.
River Ridge Recycling Ltd
The standard of applications received this year and in particular the demonstration of best practice with the wider industry was of a very high standard. River Ridge Recycling is the final employer to receive an award for their very comprehensive review of internal incidents. By closely monitoring areas of re-occurrence and immediately addressing it with employees via additional training and toolbox talks, they have significantly reduced the number of incidents that have occurred and in some cases, have reduced the number of incidents to zero.
Student Ambassador
A returning category to the WISHNI Amassador Programme this year was the Student Ambassador Award. Miss Emma Welsh, a 2nd year Environmental Health Student at Ulster University, received this award in recognition of a piece of coursework highlighting to the industry the importance of vehicle and pedestrian segregation.
WISHNI health and safety seminar - Dunadry Hotel 2018
Following the awards cermony, a health and safety seminar was attended by delegates from across the industry and included several informative presentations on the following topics:
'Preventing fires within the waste industry' by Geoff Somerville, Group Commander and Head of Protection with the Northern Ireland Fire and Rescue Service
'The importance of vehicle and pedestrian segregation to prevent incidents within the waste industry' by Miss Emma Welsh, a 2nd year Environmental Health student at the Ulster University
'Latest update from HSENI' presented by Martin Rafferty, Lead Inspector for the waste sector within the Health and Safety Executive for Northern Ireland
'How to effectively train employees' by Bobby Carlisle
'What layout changes make a 'Site Safer' and is it important', presented by Matthew Ridout and Richard Agus of MRA Partnership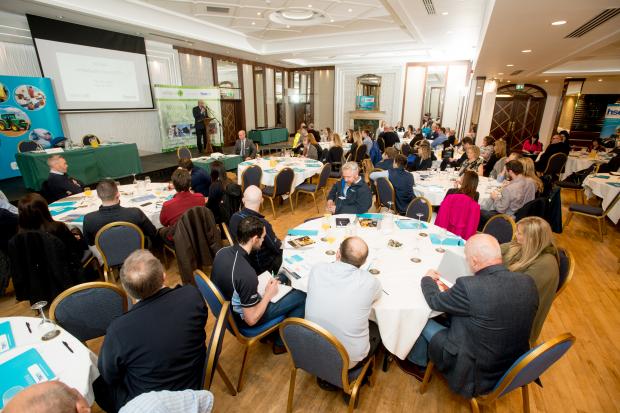 The awards ceremony and seminar were supported by the health and safety regulator, the Health and Safety Executive for Northern Ireland.
Ambassador supports key messages to industry
Workplace transport-related incidents continue to account for serious injuries and fatalities amongst many industries including waste and recycling.
WISHNI Ambassador Belfast City Council has supported the development of key messages to employers and employees engaged in waste and recycling collection services.
Good vehicle maintenance, safe access to and from vehicle cabs and the avoidance of unnecessary reversing practices are some of the key messages WISHNI are hoping to highlight.
As part of a campaign to raise awareness WISHNI has made available the following material for employers to use within their workplace. The downloadable material is previewed in the table below and you can click on the links to download a printable pdf version of the picture:
Key priorities
WISHNI is committed to ensuring organisations provide and maintain a safe, accident free and healthy work environment. To do this WISHNI continues to focus its attention on the following key priorities within the waste and recycling industry:
Latest guidance
WISHNI has produced a series of health and safety 'toolbox talks' and guidance sheets for use within the waste industry.
Safety alerts
The following safety alerts have been listed to highlight previously known hazards but which remain areas of concern within the waste industry.
Process-related fire safety risks remain an ongoing concern for many employers within the waste and recycling industry.
Recent guidance issued by WISH(GB) including 'Waste 28 - reducing fire risk at waste management sites' provides a comprehensive guide to managing fire safety risks:
WISHNI guidance (HSE/WISH documents)
WISHNI Strategy
The Health and Safety Executive for Northern Ireland (HSENI) has developed a programme of work which aims to:
reduce the RIDDOR accident rate by five per cent each year
understand and identify measures to reduce occupational ill health
ensure occupational health and safety is an integral part of the specification, procurement and management of municipal waste/recycling contracts
To help improve health and safety standards within the waste industry and in support of the above targets, WISHNI have defined the following strategy.
WISHNI will act as a steering group which will oversee working groups tasked with specific initiatives designed to improve health and safety performance within the waste industry.
WISHNI will harness the collective knowledge of its membership to help individuals; representative bodies; employers and other organisations secure a safe and healthy workplace.
WISHNI will provide information, guidance and assistance to the industry where possible in efforts to improve health and safety standards.
WISHNI will target organisations and encourage them to take part in planned initiatives or undertake other such actions so as to improve health and safety standards.
Using the WISHNI logos
The WISHNI Ambassadors Logo and Supporter's Logo are available for external organisations to use, subject to written approval from the Chair of WISHNI. Each use of the logo must, however, be in accordance with the 'WISHNI Logo Use – Terms and Conditions'. This is essential in order to maintain consistency and ensure that it is used correctly.
For more information on the use of WISHNI logos download the Terms and Conditions below. To apply to use the WISHNI logos please download and complete the following application form:
Further information can be obtained by contacting Ali Laverty (WISHNI Secretary) at the following e-mail address:
WISHNI meeting minutes
The WISHNI steering group minutes from all meetings which have taken place over 2017, 2016 and 2015 are available to view from the following links:
How can I get involved?
If you would like to attend a WISHNI meeting as an observer, or if you would like to be involved in any of the working groups or have any other comments to make about the work of WISHNI, please contact Ali Laverty (Secretary) at the following email address:
More useful links