Working together
WISHNI members include representatives from professional associations, recycling organisations, and national and local government bodies involved in waste management and recycling.
The Health and Safety Executive for Northern Ireland (HSENI) is also a member, adopting an advisory role to help improve health and safety practices throughout the industry.
The aim of WISHNI is to identify, devise and promote activities to improve industry health and safety standards.
Local companies awarded as WISHNI Ambassadors for 2019

WISHNI, the Waste Industry Safety and Health Forum for Northern Ireland, has announced nine new awards for employers chosen to be Health and Safety Ambassadors for 2019.
The Ambassadors Award Programme provides recognition of the safety management activity of WISHNI partner businesses within their own organisations. A health and safety Ambassador is described as one which is a willing participant in the promotion of health and safety best practice not just within their own organisation but the wider waste and recycling sector.
The sixth annual awards ceremony, held at the newly refurbished Dunadry Hotel, County Antrim, marked ongoing efforts to improve health and safety across the waste and recycling sector. The Chief Executive of the Health and Safety Executive for Northern Ireland, Mr Robert Kidd, acknowledged the important contribution made by each employer in helping to improve health and safety standards across the industry.
2019 Ambassadors
Mr Jim King, Chair of WISHNI commenting on the Ambassador Programme said "There has been a very encouraging level of interest in this year's Awards and I'm delighted new employers continue to become involved in promoting best practice".
Successful applicants were able to provide evidence of active participation within the wider industry on matters relating to health and safety.
Mr King presented the awards to all Ambassadors.
Industry Awards
Alpha Resource Management Ltd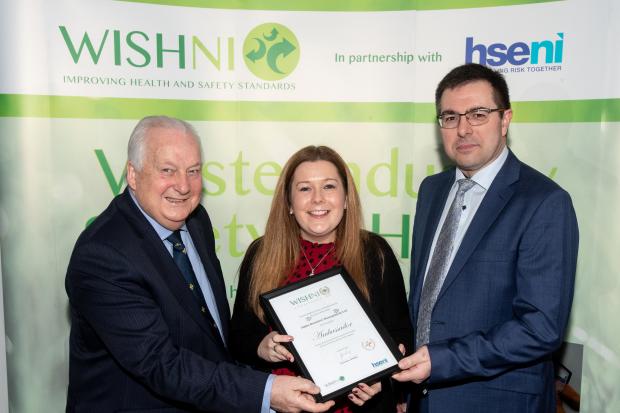 Following a change of management the company introduced enhanced requirements visibility of staff and visitors on all sites. The outcomes from these changes are the standardisation of PPE on all sites, enhanced awareness of the need to be seen on sites with high risk vehicle movements and reduced incidence of vehicle pedestrian accidents.
Avenue Recycling Ltd
Avenue Recycling has been designated a WISHNI Ambassador on the basis of a multi-strand approach to improving safety and health for its workforce and reducing the impact of its activity on neighbours. This required investment to reduce noise impact on neighbours. Investment was also provided to introduce a behavioural safety programme aimed at operatives and management. Substantial investment was also undertaken in purchasing new fleet with state of the art provision for all round visibility.
Belfast City Council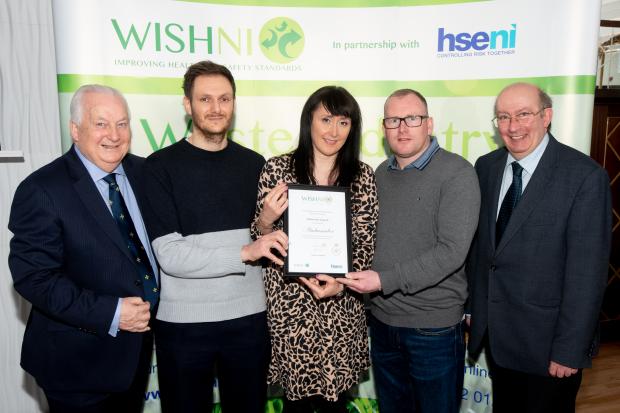 Belfast City Council is a diligent supporter of WISHNI and once again has been recognised as an Ambassador. Their work in this year, which impacts both direct and indirect employees has focussed on the risk of violence to staff engaged in, amongst other things, refuse collection and activity at civic amenity sites. A very in depth campaign, covering a wide range of activities is summarised as "The campaign is to raise awareness among staff and the public of our council's zero tolerance principle against acts or threats of physical violence, intimidation or harassment against employees.
Bryson Recycling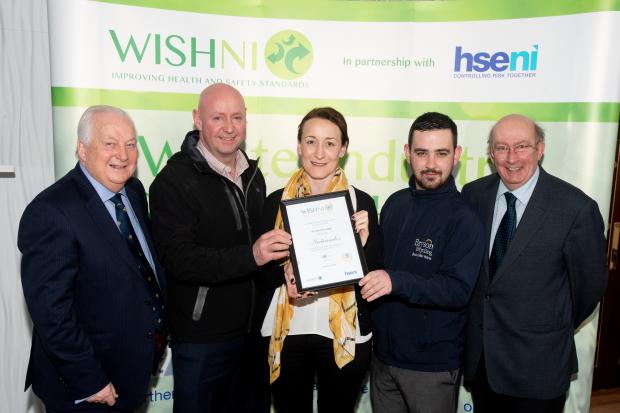 Bryson Recycling pro-actively reviewed the safety culture of the organisation to reduce accidents and develop employees' competency in health and safety. In particular, this year they have implemented improvements in traffic management within the Materials Recovery Facility (MRF) and have facilitated steps toward securing a healthier and happier workforce through a Wellbeing Week and updated policies and procedures.
McQuillan Skip Hire Ltd t/a McQuillan Environmental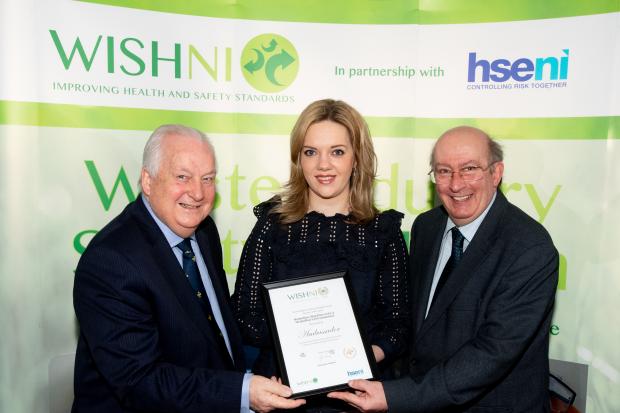 McQuillan Environmental have demonstrated a comprehensive suite of improvements in worker protection using new safeguards available to prevent contact with forklift trucks, communications to control vehicle movements and a comprehensive review of vehicle pedestrian movements based on HSG 136 and WISH publication number 13.
McQuillan Envirocare Ltd t/a McQuillan Environmental
McQuillan Environmental earned their reward through implementing enhanced chemical treatment facilities and computer based control technology to eliminate contact between employees and highly toxic chemicals such as cyanides. The techniques employed protect both safety and health of employees.
Mid Ulster Council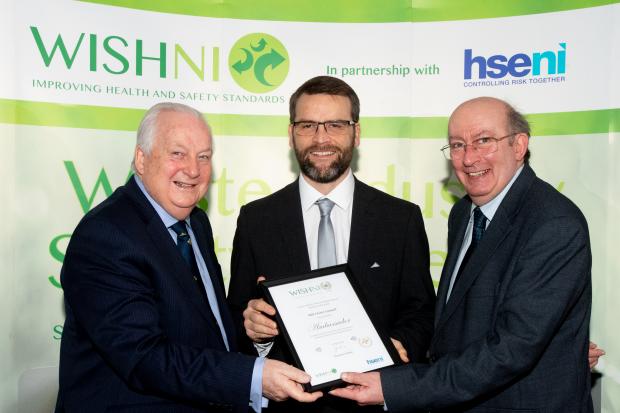 Mid-Ulster Council has been recognised as an Ambassador for the work done in designing and developing a new materials recycling facility incorporating the most up to date practice and technology to safeguard employees and visitors.
Natural World Products Ltd
Natural World Products have received this award for their work on identifying and addressing mental health wellbeing issues at work. This is a novel and worthy area of work in the waste industry and as such merited an award in this year's competition.
ReCon Waste Management Ltd
ReCon is another firm being recognised for its investment in the health and wellbeing of its workforce. 2018 saw the start of a three year programme, with the appointment of a health champion, the engagement of specialist assistance and the roll out of monthly actions to engage the workforce in activities to help them manage workplace and personal health.
Student Award
A returning category to the WISHNI Ambassador Programme this year was the Student Ambassador Award. Miss Kathyrn McCaughan, a 2nd year Environmental Health Student at Ulster University, received this award in recognition of a piece of coursework highlighting the management of dust within the waste industry workplace and the impact that dust has on employees' health.
Ambassador supports key messages to industry
Workplace transport-related incidents continue to account for serious injuries and fatalities amongst many industries including waste and recycling.
WISHNI Ambassador Belfast City Council has supported the development of key messages to employers and employees engaged in waste and recycling collection services.
Good vehicle maintenance, safe access to and from vehicle cabs and the avoidance of unnecessary reversing practices are some of the key messages WISHNI are hoping to highlight.
As part of a campaign to raise awareness WISHNI has made available the following material for employers to use within their workplace. The downloadable material is previewed in the table below and you can click on the links to download a printable pdf version of the picture:
WISHNI campaign material
Key priorities
WISHNI is committed to ensuring organisations provide and maintain a safe, accident free and healthy work environment. To do this WISHNI continues to focus its attention on the following key priorities within the waste and recycling industry:
Latest guidance
WISHNI has produced a series of health and safety 'toolbox talks' and guidance sheets for use within the waste industry:
Safety alerts
The following safety alerts have been listed to highlight previously known hazards but which remain areas of concern within the waste industry:
Process-related fire safety risks remain an ongoing concern for many employers within the waste and recycling industry.
Recent guidance issued by WISH(GB) including 'Waste 28 - reducing fire risk at waste management sites' provides a comprehensive guide to managing fire safety risks:
WISHNI guidance (HSE/WISH documents)
WISHNI Strategy
The Health and Safety Executive for Northern Ireland (HSENI) has developed a programme of work which aims to:
reduce the RIDDOR accident rate by five per cent each year
understand and identify measures to reduce occupational ill health
ensure occupational health and safety is an integral part of the specification, procurement and management of municipal waste/recycling contracts
To help improve health and safety standards within the waste industry and in support of the above targets, WISHNI have defined the following strategy.
WISHNI will act as a steering group which will oversee working groups tasked with specific initiatives designed to improve health and safety performance within the waste industry.
WISHNI will harness the collective knowledge of its membership to help individuals; representative bodies; employers and other organisations secure a safe and healthy workplace.
WISHNI will provide information, guidance and assistance to the industry where possible in efforts to improve health and safety standards.
WISHNI will target organisations and encourage them to take part in planned initiatives or undertake other such actions so as to improve health and safety standards.
Using the WISHNI logos
The WISHNI Ambassadors Logo and Supporter's Logo are available for external organisations to use, subject to written approval from the Chair of WISHNI. Each use of the logo must, however, be in accordance with the 'WISHNI Logo Use – Terms and Conditions'. This is essential in order to maintain consistency and ensure that it is used correctly.
For more information on the use of WISHNI logos download the Terms and Conditions below. To apply to use the WISHNI logos please download and complete the following application form:
Further information can be obtained by contacting Ali Laverty (WISHNI Secretary) at the following e-mail address:
WISHNI meeting minutes
The WISHNI steering group minutes from all meetings which have taken place over 2017, 2016 and 2015 are available to view from the following links:
How can I get involved?
If you would like to attend a WISHNI meeting as an observer, or if you would like to be involved in any of the working groups or have any other comments to make about the work of WISHNI, please contact Ali Laverty (Secretary) at the following email address:
More useful links