Keith Morrison - chief executive
Educated at Friends School Lisburn and holding a BA in Public Administration from the University of Ulster at Jordanstown, Keith joined the Civil Service in 1987, spending his early career in Police Authority and the Department of the Environment. He joined the Department of Agriculture and Rural Development (DARD) in 1998, working as private secretary to the Agriculture Minister and later on rural development issues.
From 2000-2006 Keith worked in Brussels on secondment to the UK Representation to the EU where he dealt with various agriculture and fisheries negotiations and legislation, including as a member of the UK Presidency team in 2005.
Before joining HSENI, Keith was the Director of Food, Farm and Rural Policy in DARD and his responsibilities included development of an Executive-wide strategy to address the needs of rural communities, management of the seven year £500million EU Rural Development Programme and leading DARD's rural anti poverty and social inclusion policy work.
In addition, Keith had responsibility for DARD's food and farm policy teams which cover the full range of primary production and food industry development issues, including the development of a new agri-food strategy for Northern Ireland.
Keith took up the role of Chief Executive on 4 February 2013.
HSENI deputy chief executive Bryan Monson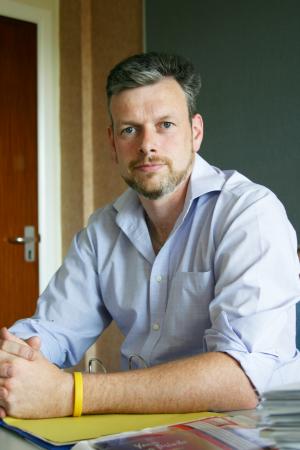 After graduating from Queen's University Belfast, Dr Bryan Monson completed a PhD in Geology in 1993 and subsequently worked on a number of mining projects in Europe and North America.
In 1994 Bryan joined the Health and Safety Division, DED, as an Inspector and following the creation of HSENI IN 1999, he was promoted to Principal Inspector in 2000.
En route, Bryan completed professional qualifications in Occupational Safety and Health and Explosives Engineering. He is a Fellow of the Geological Society (FGS), a member of the Institute of Explosives Engineers (MIExpE) and a member of the Institute of Quarrying (MIOQ).
In February 2006 Bryan was promoted to Deputy Chief Executive and holds the position of Head of HSENI's Field Operations Division
Nikki Monson - deputy chief executive
Mrs Nikki Monson graduated with a BSc in Geology from Queen's University Belfast in 1990. After working as a Personnel Officer for Dale Farm and a Training Officer for the YMCA, she joined the Health and Safety Division, DED as a Health and Safety Inspector in 1994.
Following the creation of HSENI in 1999, Nikki worked on the set up of HSENI's Information and Advisory Service and was promoted to the position of Principal Inspector in 2002. During her time as Principal Inspector Nikki had responsibility for training, which included the training of new inspectors. Nikki was also responsible for the delivery of the HSENI and district council strategy for the better regulation of health and safety at work in Northern Ireland, alongside the provision of HSENI's corporate support arrangements.
In January 2014 Nikki was promoted to Deputy Chief Executive and holds the position of Head of HSENI's Specialist Sectors Division.
Louis Burns - deputy chief executive
Having graduated from Queen's University Belfast, Louis obtained a MA in Industrial Psychology (First Class) in 1992 from University College Dublin. Following this he trained and worked as a health and safety consultant and then took up a position of Safety Manager with Guinness Northern Ireland Limited. Louis then became the Business Risk manager with Guinness Limited (formerly Guinness Brewing Worldwide) until he joined the Health and Safety Executive for Northern Ireland (HSENI).
On joining HSENI, Louis has been an inspector in the Disciplined Services Sector. During this period he developed and reviewed HSENI's policies and procedures on investigation and prosecutions. In 2005 he became a Principal Inspector and in 2007 he set up HSENI's Major Investigation Team where he was responsible for the management and oversight of investigations and prosecutions arising out of fatalities and the most serious accidents at work in Northern Ireland.
In 2017 Louis was promoted to Deputy Chief Executive and holds the position of Head of HSENI's Services Division.