The Farm Safety Partnership (FSP) today presented the Northern Health and Social Care Trust (NHSCT) with an award for their contribution to health and safety for farming families.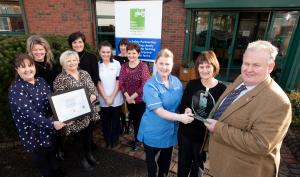 The Trust provides a wide range of services in health and social care across the local council areas of Antrim, Ballymena, Ballymoney, Carrickfergus, Coleraine, Cookstown, Larne, Magherafelt, Moyle and Newtownabbey.
Since 2006 the Trust has been promoting the health, wellbeing and safety of farm families in the Northern Area and has been involved in a series of events in recent years including Focus on the Farm Family programmes and Child Safety on Farms Programmes.
Since 2012 the Trust has managed and coordinated the Farm Families Health Check Programme, a regional initiative, which aims to increase access to health screening and advice services at local marts and community events. The FSP decided because of their outstanding contribution in these areas, NHSCT were worthy winners of this award.
Harry Sinclair, Chair of the Farm Safety Partnership, said: "I would like to take this opportunity to congratulate the NHSCT on their efforts and contribution in raising the profiles of health, wellbeing and safety for farming families.
"The Farm Safety Partnership, along with its 21 affiliate members, aim to raise the profile of farm safety in Northern Ireland and help improve the health and safety of the local farming community.
"Farming is such a vital part of the Northern Ireland economy, it is important that through the affiliates commitment to keep farm safety at the forefront of their activities, that we all play an essential role in helping to keep our farmers and their families safe."
Notes to editors:
1) The Farm Safety Partnership comprises the Health and Safety Executive for Northern Ireland (HSENI), the Department of Agriculture, Environment and Rural Affairs (DAERA), the Ulster Farmers' Union (UFU), NFU Mutual (NFUM), the Young Farmers' Clubs of Ulster (YFCU) and the Northern Ireland Agricultural Producers Association (NIAPA). It is tasked with assisting Northern Ireland's farming community to work safely and tackle the problem of work-related fatalities and injuries on farms.
2) The Health and Safety Executive for Northern Ireland (HSENI) is an Executive Non-Departmental Public Body, sponsored by the Department for the Economy (DfE).
3) Current members of the FSP Affiliate Scheme include:
● ABP Group
● AES UK & Ireland
● Asda
● Autoline Insurance
● Carson McDowell
● Dale Farm
● Danske bank
● Girlguiding Ulster
● Glens of Antrim Potatoes
● IOSH NI
● Lakeland Dairies
● Lantra
● Livestock & Meat Commission NI
● Northern Counties Co-Operative Enterprises Ltd
● Northern Health and Social Care Trust
● Northern Ireland Safety Group
● Polaris Safety Training & Rescue
● Power NI
● Rural Development Council NI
● Ulster University School of Nursing, Magee Campus
● Ulster Bank
4) For media enquiries please contact HSENI Press Office on 028 9024 3249 or email media@hseni.gov.uk.
5) For out of office hours please contact the Duty Press Officer on 028 9037 8110.