Congratulations to the Rural Health Partnership who have been awarded Farm Safety Partnership (FSP) Affiliate status and were today presented with their certificate.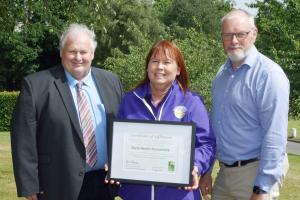 The FSP set up the Affiliate Scheme in 2016 which is part of the FSP's commitment to encourage and recognise organisations who pledge to utilise their resources and expertise to improve farm safety standards in the industry.
Since its inception, the FSP has succeeded in changing the farming community's attitudes and minds in relation to awareness of farm safety, with the reduction of work-related fatalities and injuries on Northern Ireland's farms, and this work is supported by the Farm Safety Affiliates.
The Rural Health Partnership was established in March 2000, with a purpose to promote good mental health and well-being. They run a range of programmes and activities, including Mental Health and Wellbeing, Self-Care, Physical Activity, Family and Childcare Support, Skills Training, and Support. They are also a Healthy Living Centre and are part of the NI Healthy Living Alliance.
Welcoming the Rural Health Partnership to the FSP, Chairperson Harry Sinclair said: "I am delighted to welcome our new Affiliate, the Rural Health Partnership to the Farm Safety Partnership family. Through their commitment to keep farming health and safety at the forefront of their activities, they, along with all the other affiliates, are playing an essential role in helping to keep our farmers and their families safe and well.
"It is only by working together that we will be able to reduce the number of deaths and serious injuries on Northern Ireland farms and I would encourage all stakeholders with a passion for farm safety to apply to join the affiliates scheme."
Current members of the Affiliate Scheme include:
ABP Group
AbbeyAutoline
Asda
Carson McDowell LLP
Dale Farm
Danske Bank
Girlguiding Ulster
IOSH NI
Lakeland Dairies
Lantra
Livestock & Meat Commission Northern Ireland
Northern Counties Co-Operative Enterprises Ltd
Northern Health and Social Care Trust
Northern Ireland Safety Group
Polaris Safety Training and Rescue
Power NI
Ulster Bank
Businesses or organisations operating in Northern Ireland can find out how to become a Farm Safety Partnership Affiliate Scheme member on the HSENI website
Notes to editors:
1) The Farm Safety Partnership (FSP) comprises the Health and Safety Executive for Northern Ireland (HSENI), the Department of Agriculture, Environment and Rural Affairs (DAERA), the Ulster Farmers' Union (UFU), NFU Mutual (NFUM), the Young Farmers' Clubs of Ulster (YFCU), the Farm Safety Foundation (FSF) and the Northern Ireland Agricultural Producers Association (NIAPA). The FSP aims to increase awareness of farm safety and to reduce work-related fatalities and injuries on Northern Ireland's farm.
2) The Health and Safety Executive for Northern Ireland (HSENI) is an Executive Non-Departmental Public Body, sponsored by the Department for the Economy (DfE).
3) For media enquiries please contact HSENI Press Office on 028 9024 3249 or email media@hseni.gov.uk. For out of office hours please contact the Duty Press Officer on 028 9037 8110.