The Farm Safety Partnerships (FSP) in Northern Ireland and the Republic of Ireland have come together to remind farmers to remain vigilant to the many dangers associated with working on the farm.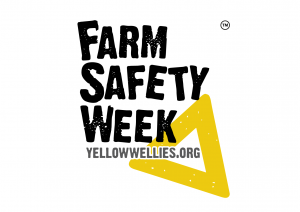 The reminder comes at the start of Farm Safety Week (19-23 July) which is an annual event led by the Farm Safety Foundation and takes place across the UK, Northern Ireland and the Republic of Ireland.
The Health and Safety Executive Northern Ireland (HSENI) in 2020 recorded 4 fatalities on farms in Northern Ireland. In the Republic of Ireland, the Health and Safety Authority (HSA) reported 17 deaths during the same time period. So far in 2021 and up to 16 July this year, HSENI have recorded 2 fatalities in Northern Ireland and the HSA have recorded 3.
Harry Sinclair, Chair of the FSP, and HSENI board member said: "Farm Safety Week offers us an opportunity not only to thank farmers everywhere for their efforts in meeting the challenges of the COVID pandemic, but also to reflect on the very real dangers they face every day in ensuring that we have the farm produce which can so easily be taken for granted.
"I am delighted that our Farm Safety Partnerships from across this island have come together to help save lives and prevent injuries in the farming community.
"Farming can be a dangerous profession, and I urge everyone involved in farm work to stop and 'rethink risk' before doing any job. By working together and taking some simple precautions we can reduce the number of people killed and injured on farms."
The causes of major injuries and death on farms across the island of Ireland come from incidents involving machinery and equipment, animals, falls, and slurry.
Ciaran Roche, Chair of the FSPAC, and HSA board member said: "During Farm Safety Week, I strongly encourage all farmers and farm families to take time to discuss and focus on the high risk areas in farming including; tractor and vehicle operation and livestock handling. In particular, I would urge those over 65, who may now be less agile and slower to avoid injury, to consider their own health and safety.
"Tractors, Quads and other farm vehicles can lead to deaths and life-changing injuries. Check and maintain all farm vehicles and restrict their use to competent operators only. When dealing with livestock work in a way that minimises physical contact and always consider how you will protect yourself and others from an unexpected attack".
Farm Safety Partnerships are made up of key stakeholders with an interest in farm safety and work to achieve the common aim of increasing awareness of farm safety and to reduce work-related fatalities and injuries.
Farm Safety Week is an annual event which takes place across the UK, and in the Republic of Ireland.
Notes to editors:
FSP (NI) Stakeholders:
Health and Safety Executive for Northern Ireland (HSENI)
Department of Agriculture, Environment and Rural Affairs (DAERA)
Ulster Farmers' Union (UFU)
National Farmers' Union Mutual (NFUM)
Young Farmers' Clubs of Ulster (YFCU)
Northern Ireland Agricultural Producers Association (NIAPA)
Farm Safety Foundation (FSF)
FSP (ROI) Stakeholders:
Health and Safety Authority (HSA)
Department of Agriculture, Food and the Marine (DAFM)
Farm Relief Service (FRS)
Irish Co-operative Organisation Society (ICOS)
Irish Farmers Association (IFA)
Macra Na Feirme (Young Farmers Association)
FBD Insurance plc (FBD)
Irish Creamery Milk Suppliers Association (ICMSA)
Teagasc (Farm Advisory Service)
Professional Agricultural Contractors Ireland (PAC Ireland)
Association of Farm and Forestry Contractors in Ireland (FCI)
SIPTU (Trade Union)
About the HSA
The Health and Safety Authority (HSA) is the national state authority with responsibility for the administration and enforcement of workplace safety, health and welfare law in Ireland. Its mission is to ensure that over two million workers across all industry sectors in Ireland are protected from work related injury and ill-health.
The HSA monitors compliance with legislation at the workplace and can take enforcement action (up to and including prosecutions) where appropriate. It is the national centre for information and advice to employers, employees and the self-employed on all aspects of occupational safety and health. It also promotes education, training and research in the field of occupational safety and health.
In addition, the HSA is the lead National Competent Authority for a number of chemicals regulations including REACH (Registration, Evaluation, Authorisation and Restriction of Chemicals) Regulation and the Seveso II Directive. Its remit is to protect human health (public, consumers and workers) and the environment, to enhance competitiveness and innovation and ensure free movement of chemicals in the EU market.
The HSA was established in 1989 under the Safety, Health and Welfare at Work Act, 1989 and reports to the Minister for Business, Enterprise and Innovation.