Over the last 20 years, eight children have been killed on farms in Northern Ireland.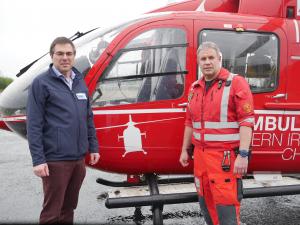 The farming industry is unusual in that unlike any other industry, on family farms especially, we typically find children and adults living, and sometimes working together.
We have come together with Air Ambulance Northern Ireland to produce a series of three short videos to highlight some of the dangers that put children at risk on the farm.
Over the series we tell the stories of two children who were injured on their family farm. Conor, from Castlewellan who was struck by an agricultural vehicle, and Ben from Aughnacloy, who was overcome by slurry fumes.
Both children had to be airlifted to hospital for emergency treatment.
Thankfully they have made a full have recovery, but without the fast actions of the emergency services there may have been very different outcomes.
With the help of Air Ambulance Northern Ireland we tell their stories as a warning to others about the dangers on our farms. Three videos can be viewed on our YouTube channel at the following link:
Please also see the following link for advice about keeping children safe on farms:
Air Ambulance Northern Ireland is a registered charity and relies on donations to maintain this life saving service. If you wish to help, contact details can be found on their website: