HSENI has launched a joint initiative with local councils to raise awareness of gas safety and the importance of taking care of your gas appliances in commercial catering.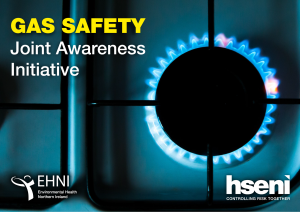 Badly fitted and poorly serviced gas appliances can cause gas leaks, fires, explosions, and carbon monoxide (CO) poisoning. CO is a highly poisonous gas that can kill quickly and without warning, as you cannot see it, taste it, or smell it.
The law places duties on the responsible person (employer) at any place of work to ensure that any gas appliances, installation pipework and flues under their control, is maintained in a safe condition to prevent risk of injury. If this applies to you, you are duty-bound to do the following:
Gas equipment must be installed, commissioned, and maintained by an appropriately qualified Gas Safe registered engineer.

Supporting evidence of the installation should be available for review during any subsequent inspections by an Environmental Health Officer (EHO) or HSENI Inspector. All Gas Safe registered engineers will be able to provide the relevant paperwork.

Check the engineer is Gas Safe registered and appropriately qualified for the type of work you need doing. Not all Gas Safe registered engineers can work on all types of gas or appliances. The onus is on you to ensure that the engineer is qualified to work on your gas supply, as well as the type of gas appliances you have.
Between now and March 2023 EHOs and HSENI Inspectors will be following a programme of visits and checks to ensure the safety of your gas installation.
You can get further information on gas safety in commercial catering at
You can find or check a Gas Safe registered engineer in your area and check their qualifications at GasSafeRegister.co.uk
Notes to editors:
For media enquiries please contact: HSENI Press Office on 028 9024 3249 or email media@hseni.gov.uk. For out of office hours please contact the Duty Press Officer on 028 9037 8110.