During Farm Safety Week (19-23 July) the Health and Safety Executive for Northern Ireland (HSENI) is encouraging the farming community to 'wake up' to the issue of tiredness during their daily routines.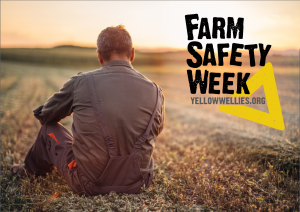 Tiredness is a normal part of everyday life. It is particularly relevant to farming life in Northern Ireland in the summer period and during the silage season with farmers often working long into the evening to complete tasks.
HSENI Chief Executive Robert Kidd, said: "Tiredness and fatigue can have serious consequences within the farming community, and can lead to minor and major injuries and even fatality. HSENI is encouraging farmers and contractors to consider their working patterns and ensure that sufficient breaks are taken to combat the issue of tiredness.
Over working can lead to conditions such as musculoskeletal disorders, work-related stress and decreased awareness which in turn can lead to incidents, so it is important not to underestimate the risks of tiredness.
Advice on workplace occupational health issues can be found on the HSENI website at the following link:
Notes to editors:
1. Farm Safety Week 2021 is supported by the Farm Safety Foundation, Farm Safety Partnerships, the Health and Safety Executive, the Health and Safety Executive for Northern Ireland and the Health and Safety Authority, Ireland.
2. The Farm Safety Partnership comprises the Health and Safety Executive for Northern Ireland (HSENI), the Department of Agriculture, Environment and Rural Affairs (DAERA), the Ulster Farmers' Union (UFU), NFU Mutual (NFUM), the Young Farmers' Clubs of Ulster (YFCU), the Farm Safety Foundation, and the Northern Ireland Agricultural Producers Association (NIAPA). It is tasked with assisting Northern Ireland's farming community to work safely and tackle the problem of work-related fatalities and injuries on farms.
3. The Farm Safety Partnership's ongoing 'Stop and Think SAFE' farm safety campaign focuses on the four main causes of death and injury on our farms – slurry, animals, falls and equipment (SAFE).
4. For media enquiries please contact HSENI Press Office on 028 9024 3249 or email media@hseni.gov.uk. For out of office hours please contact the Duty Press Officer on 028 9037 8110.
5. HSENI is the lead body responsible for the promotion and enforcement of health and safety at work standards in Northern Ireland.