HSENI, in conjunction with its partner organisations, are holding a Managing Workplace Health conference next month. Designed by and for Occupational Health & Safety professionals the conference delivers a programme which is relevant, thought provoking and educational.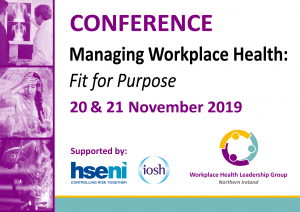 It addresses situations that confront us on a daily basis, it offers new ideas and theories to be considered and it offers attendees an opportunity to have their say, all in a relaxed setting which encourages informal discussions.
The development of new working relationships, professional connections and support networks will be actively encouraged and attendees are encouraged to discuss and report on their own experiences with like‐minded professionals.
Date: 20 and 21 November 2019
Location: LaMon Hotel, Gransha Road, Belfast
More information and how to register on the WHLG website