As Christmas approaches, many households will be purchasing and gifting various items of technology such as mobile phones, computers, tablets or even an e-scooter or battery powered lawn mower. This type of technology is powered by a battery containing the chemical element lithium.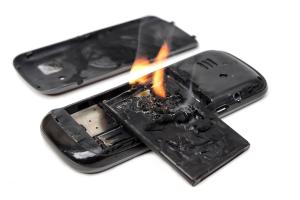 Lithium batteries are generally safe and unlikely to fail where there are no defects and the batteries do not become damaged. However, when lithium batteries fail to operate safely or are damaged, they can present a fire and/or explosion hazard. The consequences of such fires can be serious, both in the home and at waste recycling sites.
Purchase of new technology often coincides with the disposal of the old, this includes disposing of the batteries once used to power it. Where batteries are mixed with general household waste, they can, and are, arriving at Material Recycling Facilities (MRFs) across Northern Ireland.
As a result, waste sector employees are having to identify and remove batteries during the sorting and separation process. Where these batteries go unnoticed, they can become damaged during the sorting process leading to fire and explosion hazards which can spread rapidly causing serious injuries and/or fatalities.
HSENI Principal Inspector Brian Pryce said: "As our inspectors visit waste processing facilities, duty-holders are reporting lithium-ion batteries causing fires on their sites. The risk to staff and fire fighters in extinguishing the blaze and preventing other waste materials catching fire is high, with potential risk to health and life."
Whilst the waste industry seeks to prevent and control fire hazards on site, Joseph Doherty of ReGen Waste Ltd (a WISHNI partner company) said: "The waste Industry is on high alert for these (lithium based) batteries, but it is nearly impossible to pick them out once they are mixed with other waste."
To keep our homes, families and employees working in the waste industry safe, WISHNI in cooperation with HSENI, suggest the following:
do not charge your electronic device overnight, in your bedroom nor charge larger items such as e-scooters in an escape route from your home
always use the correct charger for your technology and do not exceed the manufacturers recommended charging time
use your battery charger in an area of the home where you can keep an eye on it in case of overheating - do not charge batteries on soft surfaces such as sofas or beds which can trap heat around the battery
dispose of waste technology through your local council's household waste recycling site
consult your local council for advice!
Chair of Belfast City Council's People and Communities Committee, Councillor Ross McMullan said: "Unfortunately, batteries have caused a number of fires in our recycling premises over the years. This Christmas, our main message would be to dispose of them correctly and not to place them in household waste or recycling bins.
"In Belfast, you can deposit batteries in special collection bins at our Household Recycling Centres. Most shops that sell batteries also have battery collection bins."
Notes to editors:
The Health and Safety Executive for Northern Ireland (HSENI) is an Executive Non-Departmental Public Body, sponsored by the Department for the Economy (DfE), and is the lead body responsible for the promotion and enforcement of health and safety at work standards in Northern Ireland: www.hseni.gov.uk
WISHNI is a voluntary organisation, set up by the waste industry, for the waste industry with the aim of improving the health and safety of employees within Northern Ireland
Lithium based batteries contain a number of different chemical elements which in normal use provide a safe means of delivering electrical power to portable electronic devices, including phones, computers, e-scooters and battery powered hand-tools. Faults may occur which release flammable vapours which can self-ignite causing local fires and fumes
Batteries mixed in general household waste can be damaged in materials recycling facilities, causing fires in the waste being processed. These fires are generally put out very quickly by staff. However, if the public could be encouraged to recycle batteries through their local household waste recycling centre, they can be processed separately from other combustible waste, so protecting employees and the environment
For media enquiries please contact: HSENI Press Office on 028 9024 3249 or by email: media@hseni.gov.uk. For out of hours please contact Duty Press Officer 028 9037 8110