Mr. King, commenting on the Ambassador Programme said;
"WISHNI has continued to provide support to the waste and recycling sectors by developing and sharing best practice across the industry. This event has been a valuable contribution in achieving this aim. I look forward to seeing our new Ambassadors effect further positive change within the industry and I would support them in their efforts."
The Chief Executive of the Health and Safety Executive for Northern Ireland, Mr. Robert Kidd praised the ongoing efforts to improve safety across the sector. He said;
"I congratulate this year's WISHNI Ambassadors for their important contributions in helping to improve safety standards across the industry. It is encouraging to note the support offered by a range of organisations, all with the primary aim of promoting health and safety best practice across the waste and recycling industry. By working together and developing partnerships between government, industry and other stakeholders we can better manage and reduce the risks to Northern Ireland's workers."
Successful applicants were able to provide evidence of active participation within the wider industry on matters relating to health and safety.
Winners of the 2020 WISHNI Ambassadors Awards Programme were:
McKinstry Skip Hire Limited

McKinstry Skip Hire Limited demonstrated their ability in tackling a number of issues which are prevalent across the waste industry. The hazards associated with dust generation whilst processing scrap materials is well known. McKinstry Skip Hire Limited have been appointed as Ambassadors for 2020 following the installation and implementation of a dust suppression system which is remarkable in its effectiveness to significantly reduce the dust burden from the work environment.
Not only have they provided clear evidence of reducing the amount of dust generated from their process but have also shown a significant decrease in the amount of time required for housekeeping and a significant reduction in fire risk. Staff have reported better working conditions. Therefore, not only has health been improved but staff morale has also improved.
McQuillan Environmental Limited

Throughout the past year McQuillan Environmental Limited recognised the need for mental health awareness at work and the importance of this for their workforce. They implemented a mood matters programme in the workplace aimed at promoting mental health awareness across the company.
By teaching employees how to recognise the symptoms of poor mental health and how to develop skills, techniques and tools to look after their own mental health they have reduced the stigma surrounding this difficult topic and have encouraged a culture of understanding within the workplace. The company has also invested in mental health first aid training. The intention behind these commitments is to detect, prevent and provide early intervention to safeguard their workforce.
ReCon Waste Management Ltd

As a returning Ambassador ReCon Waste Management Limited are one of the stalwarts of not just WISHNI but also of the Ambassador Awards. This organisation places the safety and wellbeing of its employees at the forefront of daily activity. Not only does the company carry out a lot of training for staff, it has developed a suite of risk assessments and controls for high risk activities within the company. These include lone working, confined space entry and working at height.
Re-Gen Waste Limited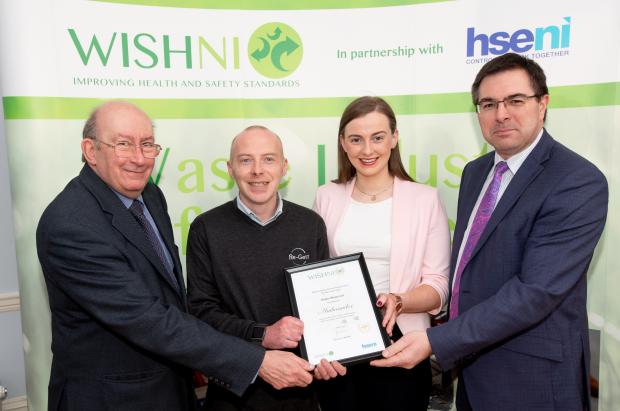 Re-Gen Waste Limited have been recognised as Ambassadors this year for tackling accident causation by developing and implementing a detailed near miss reporting system. It is well publicised that this sector has unfortunately one of the highest rates of injury in the country and also has one of the highest percentage of workers whose first language is not English. Re-Gen have recognised both these issues and have introduced and tested a system to eliminate accidents by identifying problems before they turn into lost time accidents.
Student Ambassador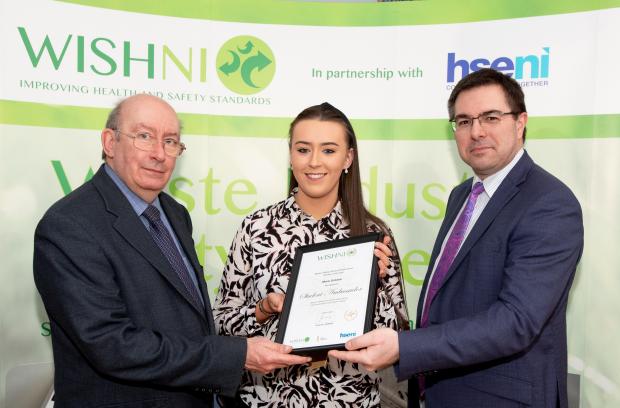 A returning category to the WISHNI Ambassador Programme this year was the Student Ambassador Award.
Miss Maria Gribben, a 2nd year Environmental Health Student at Ulster University, Jordanstown received the award in recognition of a piece of coursework highlighting the causes, effects and impacts of noise on employee's health within the waste and recycling sector.
With several thousand cases of industrial deafness still occurring in industry across the UK every year this is a highly pertinent topic.
Following the awards ceremony, a health and safety seminar took place with presentations from local industry and regulators.