WISHNI Digital Coffee Morning
Friday 28 April 2023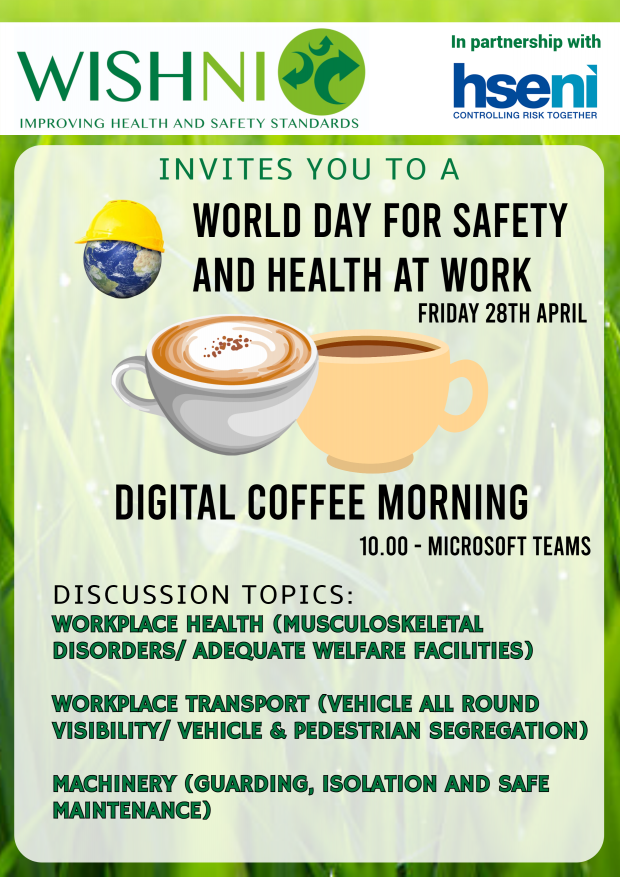 To join the meeting please click on the link below:
If you have any queries please contact the WISHNI team at wishniforum@gmail.com
Founder member announces retirement
Professor Alan Woodside OBE, one of the founder members and first Chairman of WISHNI has decided to hang up his safety boots and retire from the world of work. We in WISHNI owe Alan a tremendous debt for freely giving up his time and providing leadership and wise counsel in the early years of WISHNI.
After a distinguished career in academia, Alan threw himself wholeheartedly into the world of promoting safety and health in the waste industry which, in those early days, had a very poor safety record. An enthusiastic supporter of the WISHNI Ambassador Awards, the Student Ambassador awards aimed at university students and our safety and health awareness days, Alan was present at them all. It has been most encouraging to see accident rates going down during Alan's time in office.
WISHNI was only one of Alan's many interests. His great sense of humour and sound common sense will be sorely missed but we wish Alan a long and healthy retirement.
Talking Toolkit - preventing work-related stress
HSENI's Mental Well-being at Work Advisory Service have produced an excellent booklet designed to help line managers hold initial conversations with employees as one part of an employer's journey towards preventing work-related stress. Download it from the link below:
WISHNI Student Ambassador 2021
This year, WISHNI presented their annual Student Ambassador Awards virtually on Wednesday 28 April 2021. Click on the link below for more details:
Coronavirus (COVID-19) – WISHNI advice
Symptoms
High temperature - this means you feel hot to touch on your chest or back
New continuous cough - this means coughing a lot more than an hour, or 3 or more coughing episodes in 24 hours (if you usually have a cough it may be worse than usual).
Loss or change to your sense of smell or taste - this means you have noticed you cannot smell or taste anything, or things smell or taste different to normal.
Most people with Coronavirus have at least one of these symptoms.
Self-isolation
If your symptoms are mild, you should self-isolate and are advised not to leave your home for at least 10 days. Anyone you live with should also self-isolate and not leave home for at least 10 days.
Social Distancing
At this time in Northern Ireland, government advice is to stay at home and, if possible, work from home. If you attend your workplace, you must ensure you follow good hygiene practice.
Employers must follow best practice within the workplace by ensuring social distancing is observed wherever possible and by meeting all of the relevant guidance.
Hierarchy of Control
Elimination
If at all possible you should work from home.
Substitution
Substitute the task. Can the task be carried out in a different location or can the person carry out an alternative task in order to reduce crowding within certain areas?
Engineering Controls
Introduction of physical barriers at workstations. Provide additional welfare facilities and hand washing stations throughout the site. Regular cleaning of touch points.
Administrative Controls
Appropriate supervision to ensure compliance. Displaying of signage including marking of 2 metres as a guide. Regular reviewing of risk assessments and procedures to ensure they remain valid.
Personal Protective Equipment (PPE)
Ensure adequate PPE is provided to employees as required or detailed within the company's risk assessments. Ensure employees have been trained to wear the PPE correctly and can remove and dispose of it safely.
Additional information
WISHNI have produced advisory documents to assist employers. It details appropriate measures that should be taken during the current COVID-19 Pandemic. Click on the links below to view:
Please use this information in conjunction to advice outlined from the below recognised government sources: